Sodak Prairie Acres - Testimonials
Here's what a few of our customers have had to say about us.
Have a testimonial of your own to share?
Send a Testimonial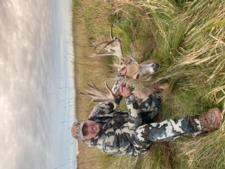 Gabriel Arana
2019 - Key Biscayne, FL
Chuck and family made us feel like home, super nice people and great organization, we had a great time and a hunt of a lifetime. Thanks for everything Chuck and hope to see you next deer season.
Brady Templeton
Fall/2018 - Livingston, Tx
I would like to give a huge thanks to the guys at Sodak Prairie Acres for having us. From the time we arrived we had anything we could want or need. A very special to thanks to the cooks, the food was delicious and made us feel right at home. It was a great experience all around from the lodge to the challenging hunts. We had a great time and can't wait to come back. Thank you all again!